Pencarrow
Parangarahu Lakes, Wellington, New Zealand
A gentle, though fairly long, gravel road from Eastbourne to the lower lighthouse on Pencarrow Head.
Unlike most parts of Wellington, the road is flat – it follows the rocky beach and deviates no more that a couple of metres in elevation.
This road is very popular with walkers and bikers, being especially busy on fine, calm days.
From the Lower Lighthouse, continue towards Baring Head for access to the Light house track. Alternatively, wander inland for loops around Lake Kohangapiripiri or Lake Kohangatera, including Cameron Ridge and Valley View Hill.
Seagulls seen against the setting sun, just north of the Lower Lighthouse
Lower Lighthouse during late afternoon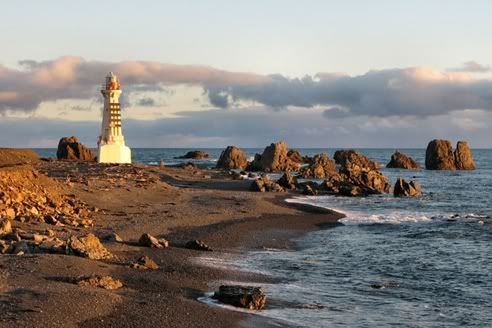 Start at the large car park at the end of Muritai Road, Eastbourne. Proceed through Burdans Gate and follow the gravel road along the Wellington Harbour coastline.
There is a locked steel gate 250m from Burdens Gate, but some vehicles have access so watch out for them.
Being an exposed coastal road, it is probably best to avoid this area when there is a strong northerly wind, otherwise the return trip to Eastbourne can be a hard slog.
Dogs are prohibited along the coastal road during the lambing season, from 1 August to 31 October each year. At all other times dogs must be kept on a leash.
Google goodness
Download GPS path: kml
---