Deliverance
Wrights Hill, Wellington, New Zealand
A rogue downhill through dense native scrub with fast traverses and short steep drops. A few short ups and stream crossings add to this excellent flowing single track.
Technically challenging rumble down a deep, dark valley.
The track follows a creek, crossing it several times. During or after wet weather, the distinction between the track and creek becomes somewhat unclear in places, adding to the fun/torture (depending on one's point of view).
At the top of the track is a sign warning about the "dappled lighting conditions". Just along from the warning sign, on the righthand side of the track, is a headless Jesus statue.
The dappled lighting conditions are the least of your problems as you soon encounter a steep boulder strewn rock garden that has only a passing resemblence to a track. If this is too intimidating, then proceed no further. There are numerous other obstacles as you drop down the valley, including sudden drops, rocks in awkward places, and lots of slippery tree roots across the track.
For those still keen, ascending Salvation and descending Deliverance makes for a great circuit.
The original entry to Deliverance (also known as Normal) can be reached from the first car park on Wrights Hill, which is on your right coming up Wrights Hill road just where the gradient levels off on a sharp left-hand bend. There is a sign post for Skyline (Salvation) and Burrows Ave. Follow Salvation for about 30 metres and you will come to a large sign for Deliverance which dives off to the left just before Salvation ascends slightly.
There are now three different entrances to Deliverance, one of which divides again before they all rejoin Deliverance proper. The easiest entry to find is Normal, which is described above. Another popular entry is Mr X. For a more challenging start try the entry known as Downpipe, from which Evil makes a hard left-hand turn away from the natural flow of the track just before the section known as Pure Evil. Beware!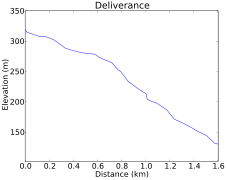 Google goodness
Download GPS path: kml
---