Salvation
Salvation (Ascention, Temptation)
Wrights Hill, Wellington, New Zealand
A meandering single track through mixed light and dense regenerating bush. The gentle gradient of this track is by design, and it never gets steeper than 6%. This track is the best connector if going from Makara Peak to Wrights Hill.
As you leave the road end you are immediately plunged into the bush and confronted with probably the tightest switch-back on the entire track. After this things settle down as the track winds through the bush over various small wooden bridges and corners. The first intersection to Woodhouse is on a sharpish right-hand switch-back. It is clearly marked with a large sign that says "no bikes".
After this the track levels off for about 700 metres. Continue climbing. There are a couple of brief downhill bits but it's pretty much up hill all the way to the next intersection to Burrows Ave. Continuing straight on the track climbs for only another 250 metres before levelling off. The last 500 metres is level and then slightly down. As you sweep around a downhill bend out of the bush past the turn-off to Deliverance, the top carpark straight ahead about 30 metres on.
The top can be reached from the first carpark on Wrights Hill, which is on your right coming up Wrights Hill road just where the gradient levels off on a sharp left-hand bend. The bottom can be reached from the end of Fitzgerald Place, it is the most obvious trail on the north side of the parking area. The less obvious track is the exit to Deliverance.
This track has been designed with decreasing radius corners (from downhill pov) which is an attempt to reduce the speed of riders coming down. This makes for a 'power climb' as you can accellerate out of the corners.
This track was originally (officially) called Skyline and is a part of the 'Skyline Trail'. But a lot of people including me think this name is really confusing (other lostworld) so the unofficial name Salvation is used here, as it is used informally by local riders.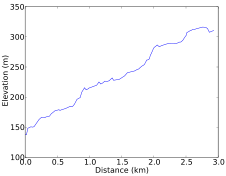 Google goodness
Download GPS path: kml
---