Grand Loop
Makara Peak, Wellington, New Zealand
Great sampling of the tracks that the Makara Peak Mountain Bike Park has to offer. This is a popular circuit that conveniently starts and ends at the main car park while including the summit and plenty of sweet single track.
Intermediate (except for Ridgeline and Ridgeline Extension, which are Advanced)
Stage 1: Koru (3.0km, Easy)
Starting from the main car park, this is the primary entry into the Makara Peak Mountain Bike Park via an easy climb through the forest.
Stage 2: Sally Alley (1.4km, Intermediate)
Bush clad track that sidles around the hill.
Stage 3: Missing Link (1.7km, Intermediate)
A slightly more technically challenging track that drops into a gully and then climbs back out again.
Stage 4: Aratihi (2.2km, Intermediate)
Starting from just above pylon 16, this track climbs almost continuously to a few metres below the summit of Makara Peak.
Stage 5: Summit connection (0.2km, Easy)
Complete the last few metres to the summit along the end of Tower 16 Connector and then part of Snake Charmer.
Stage 6: Ridgeline (1.4km, Advanced)
Now for the fun part – let the down hill stages begin. This is the most technically difficult stage of the loop, with a steep and sometimes tricky descent.
Stage 7: Ridgeline Extension (0.8km, Advanced)
Cross the gravel road (Allington Connector) and continue down hill.
Stage 8: Big Tom's Wheelie (0.2km, Easy)
Cross another gravel road (Snake Charmer) and cruise along this short and almost flat connection.
Stage 9: Swigg (0.5km, Intermediate)
Weave down this sweet flowing single track, taking full advantage of the sweeping corners.
Stage 10: Starfish (0.6km, Intermediate)
Finally, drop back down to the main car park – watching out for the concrete slab ramp immediately after a tight left-hand corner past a large tree stump.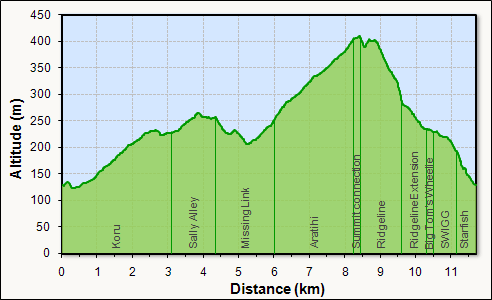 Starts and ends at the main car park on South Karori Road.
Refer to the individual track descriptions for further information.
Google goodness
Download GPS path: kml
---