Karori Rock
Hawkins Hill, Wellington, New Zealand
Sand and pebble tour around the southern coastline beyond Sinclair Head to the Karori Rock lighthouse.
From Sinclair Head the track gets increasingly rough and ill-defined. By the time you're a couple of kilometres from Karori Rock, the track has degenerated into a (large) pebble rumble with sections of unridable deep, soft sand. At low tide it might be possible to ride on the compacted wet sand along the water line, but don't count on it. Most likely there will be a bit of walking involved.
About 1.7km from Sinclair Head there is a track diverging up the cliff face. This initially goes to a memorial overlooking Cook Strait and then heads inland to Long Gully.
Interisland Ferry passing Karori Rock Light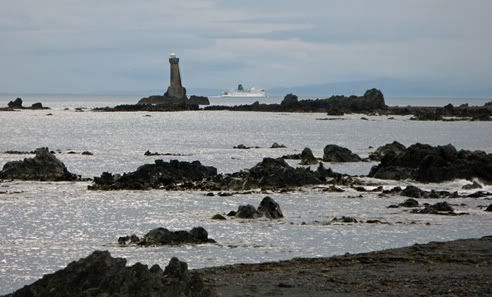 Continue around the coastline from the end of Pariwhero at Sinclair Head.
Return the same way.
Watch out for the 4x4 drivers. They don't like stopping on the soft parts of the track, in case their vehicles get stuck. Consequently most of them will charge on through and expect everyone else to get out of the way.
Google goodness
Download GPS path: kml
---