Boulder Hill
Belmont Regional Park, Wellington, New Zealand
Climb from the Hutt Valley to the summit of Boulder Hill.
A 400m climb from the floor of the Hutt Valley to the summit of Boulder Hill. Parts of the track are steep, especially towards the summit, though there is a flatish section in the middle.
There is plenty of variety in terms of track surface – ranging from a well-formed gravel road on the lower sections, through to a grassy 4x4 track in the middle, and ending with a barely defined single track for the final section to the summit.
The summit of Boulder Hill is littered with exposed boulders – hence the name. A heap of small rocks have been collected to mark the summit with a sizable cairn.
A cairn marking the summit of Boulder Hill
Thistle encased in a spider nest on Boulder Hill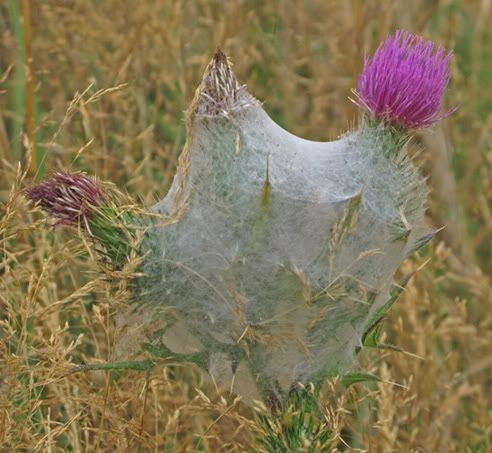 The following video starts at the car park's information board, heads out to Hebden Crescent, then up the 4x4 access road, past the top of the zig-zag track, then up the track towards Boulder Hill. At 3:12 the video deviates onto the Dry Creek track.
The track starts from Belmont Regional Park's Dry Creek entrance, off State Highway 2. From the car park climb up the short zig-zag track next to the information board, and then turn right up the 4x4 road. Alternatively, the 4x4 road provides a less steep access off Hebden Crescent (parallel with State Highway 2), meeting a metal gate just below the top of the zig-zag track.
The top of this track is at the summit of Boulder Hill.
Where the transmission line crosses the track there is a steep, 250m long alternative track that takes a short-cut down the hill – probably best taken as a descent.
Google goodness
Download GPS path: kml
---