Belmont Trig
Belmont Regional Park, Wellington, New Zealand
Gravel road from Stratton Street to the summit of Belmont Trig.
Belmont Trig provides spectacular views over the Belmont Regional Park and beyond, including the South Island on a good day. The climb is hard work, but the views are worthwhile.
The track is a steep gravel road which forms part of a loop that includes Dress Circle, Round Knob, and OCR Belmont.
From the summit, exit options include:
A fast descent down Belmont Trig to Stratton Street.
Descend into the Horokiwi Valley via Belmont Trig South, Horokiwi Bridleway, or Honeysuckle Ridge.
Continue around the hill tops via Dress Circle.
Just for fun, there is also a short – though extremely steep – shortcut from the summit that runs north almost straight down the hill from the trig to the main track.
About 0.8km from the bottom the walking-only Korokoro Dam track heads off to the south.
Sunset as seen from the Belmont Trig, looking towards the South Island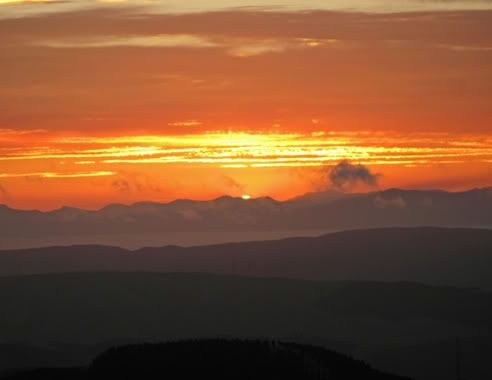 Go through the gate next to the cattle stop on Stratton Street. Cross the small bridge, then look to the left, where there is a 4x4 road up the hill - that's it. The start is very steep, but the rest isn't quite so bad.
Google goodness
Download GPS path: kml
---